Stealth-1 Custom Cut Down Ultra-Flat 1911 .45

Full Size Goverment 1911 Frame Cut Down Smaller Then an Officers Etc.
Custom Finger Rings Added For Postitive Grip When Running Or In Combat.
Modified Detonics Combat Master Slide & Barrel For Ultimate Accuracy.
Custom Fabricated FLAT & Checkered Safety & Slide Catch For Concealment.
Magazine Release Shaved & Rounded For "No Release Carry" In Rugged Conditions.
Aluminium Grip Panels With 4 Flat Hex Screws For Ultra Thin Profile.
Semi Bobbed & Rounded Hammer With One Way Serrations For Cocking Ease.
Semi Extended Mini Beavertail, "Melted" ( Rounded - Sharp Edges Removed )
Black Fiber Trigger, Fully Bead Blasted Stainless Steel Finish, Night Sights.

So Many Gun Smiths And Companies Have Tryed To Jump On The
Mini .45 Band Wagon The Past Several Years . . . . .
But Anyone Who Has Been Around A While,
Knows, I was There FIRST . . . AGAIN !
TJ's Stealth 1 - Circa 1986 !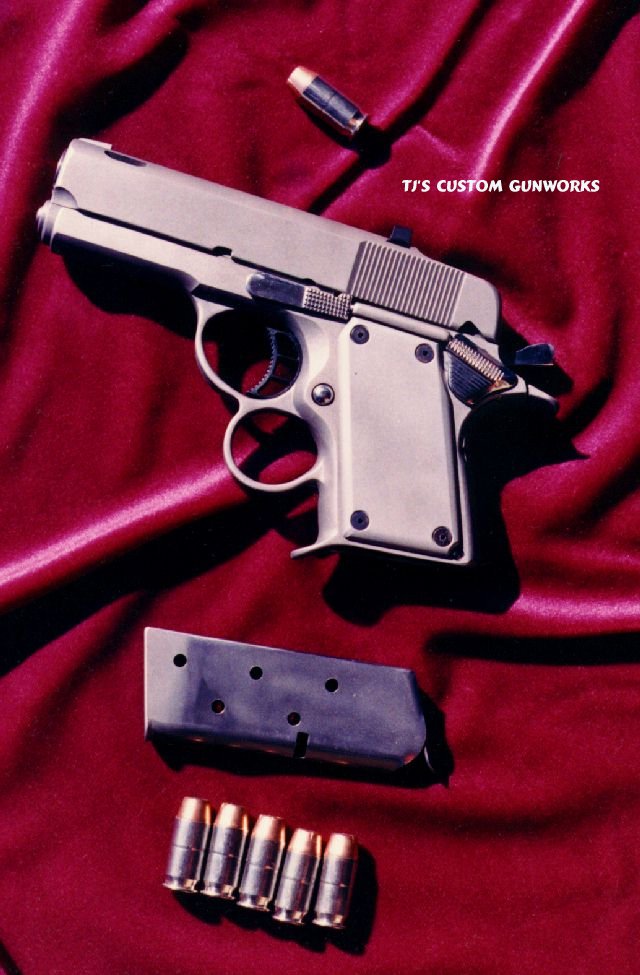 TJ's Home Page | TJ's Price List | TJ's F.A.Q. Page