The Gun From HELL !

We all get crazy ideas, this was one of mine. Created Circa 1986
Some smiths have tryed to copy me with simular fabrications, but the
"Gun From Hell" was one of a kind, with its Hardened Knife Steel Spikes
that were Sharpened to Rival a Surgical Needle & Steel Knuckle Guards.
Other Features Include "Grey Pearlite" Grips with Sterling Skulls Inlaid.
Black Teflon Plated Frame, Millett FIxed Sights, Wilson Beavertail,
Videki Match Trigger, and Matt Hard Chrome Slide & Clark Compensator.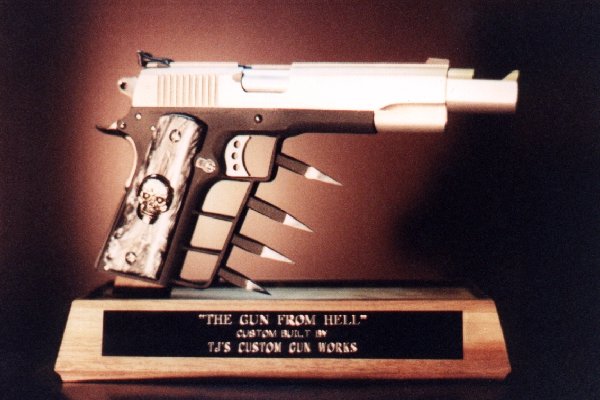 TJ's Home Page | TJ's Price List | TJ's F.A.Q. Page