1911 Beavertail Modifications
The Right & Wrong Ways To Do Things !

What You Are Looking at Here in This Photo is the SAME Gun,
BEFORE & AFTER I Re-Customized it.
I Would Have to Say Over 50% of the Guns I Work On,
Were Either Built or Customized by OTHER "Gunsmiths". &nbsp
Although this is an Extreme Example,
I see ALOT of Simular NonQuality Work Internally in the Action Parts.
I Don't Mind Re-Working Guns Others Have "Attempted" to Customize,
But I Usually Do Have to Replace Parts.

Below You Can See How Someone ELSE Fit This Beavertail (Top)
And (Below) How I Re-Ground The Frame And "Melted" the
Beavertail & Frame to Fit as One in The Hand.
Often I Will Grind & Contour Fit The Back of the Safety As Well.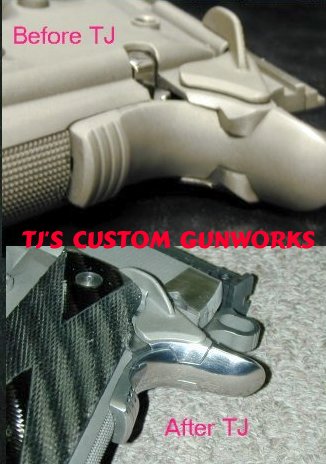 TJ's Home Page | TJ's Price List | TJ's F.A.Q. Page