Custom ParaOrd P14 Carry Gun Built To The Max !

Custom Squared Trigger Guard, Checkered Front Strap Add On,
Matt Hard Chrome Frame, Black Teflon Caspian Slide, Extended Mag Well,
Ed Brown Beavertail & Extended Safety, Chip McCormik Hammer,
Custom Made Skeletonized Match Trigger, Stainless Hex grip Screws,
Briley Match Barrel & Spherical Bushing, Stainless Two Piece Giode Rod,
Hand Checkered Mag Release, Black Micarta Grips With Sterling Skulls,
Front Slide Serrations Milled to Match Rear Serrations for Chambering Ease
Custom Novak Night Sights With Orange DayGlo Highlighting, And Of Course . . .
The TJ Deluxe Action & Reliability Work With 2.5lb Trigger Pull.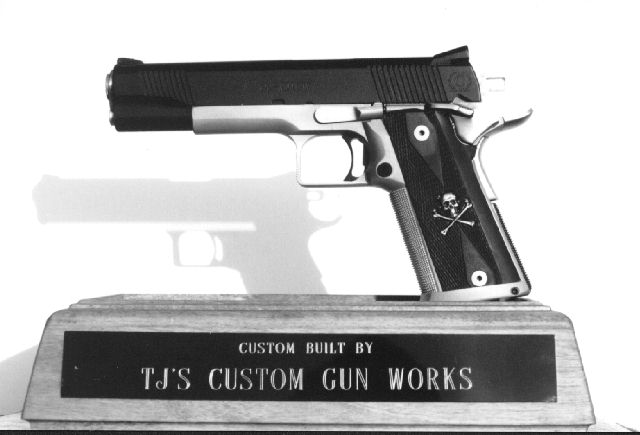 TJ's Home Page | TJ's Price List | TJ's F.A.Q. Page